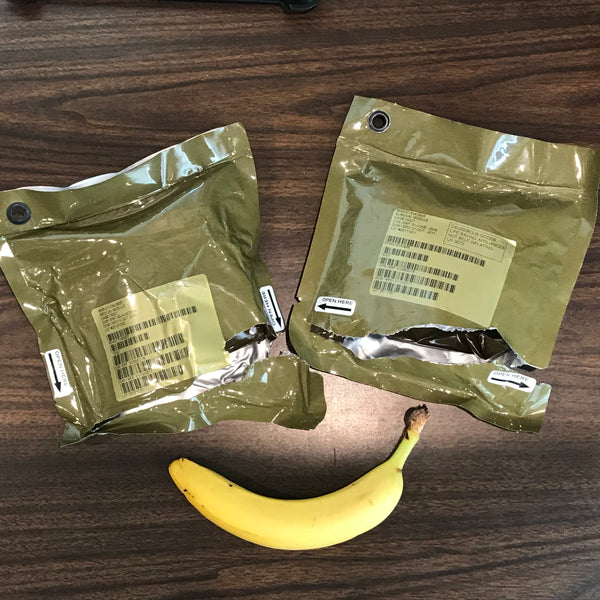 What's Inside: Fighter Pilot Medical and Survival Kit Modules
Recently I bought as surplus two components of a larger Aviation Life Support Equipment assembly. One is a Survival Kit Module (NSN 6545-01-534-0935), and the other is the Medical Module (NSN 6545-01-534-0925).  Aside from these two modules, an Air Force pilot would also have a raft,  radio equipment, and a parachute.  Once the pilot has landed, that parachute is also expected to supply shelter material and cordage not included in the kit itself. The modules shown here were sealed when I got them, but I have opened them since then. Because they're military surplus, both modules were expired when I got them.
Let's see what's inside!
We'll check out the Medical Module first. The top line on this pouch is the NSN, which stood for National Stock Number. Then there's "Medical Module," and then a CAGE code. This CAGE code corresponds to an organization called Friendship Industries, which provides work opportunities and training to persons with disabilities. They assembled and packed both modules here, but they don't manufacture the contents. A lot of federal money goes to organizations like this, which seems wonderful to me. 5col Survival Supply sources a number of products from organizations like this.
These are the contents of the Medical Module. Let's check 'em out.
Here we have the minor wound care components. Little scratches and scrapes can turn into life threatening infections, so it's important for downed pilots to treat them promptly and carefully.  This Medical Module included 4 large and 4 1 in. x 3 in. adhesive bandages, plus two squeeze packets of Bacitracin antibiotic ointment.  5col Survival Supply sells a little more comprehensive assortment of minor wound treatment items here.
Miscellaneous components: Moist towlettes, sunscreen, insect repellent, and rehydration drink mix. Interesting thing I learned a while back: SPF 30 is as effective as sunscreen gets. You can always buy sunscreen with a higher SPF, but it doesn't provide additional benefit. Similar is true for the Deet in the insect repellent. 30% is usually described as "full protection," although higher concentrations will usually last longer.  One estimate I've seen is that 30% DEET will provide full protection for approx. 6.5 hours, while 100% DEET will provide protection for approx. 9.5 hours.  Both the sunscreen and insect repellent are towlettes, instead of liquid or lotion.  We sell a similar insect repellent wipe here.
The CeraLyte 70 drink mix shown here is similar to Gatorade--it's intended to replace lost electrolytes, helping the downed pilot prevent dehydration and the accompanying heat exhaustion/stroke. The moist towlettes also have an obvious use.
These are the components for treating serious wounds and injuries. The bandage on the left is sterile and can be used for packing wounds, dressing wounds, or bandaging. The Quikclot Combat Gauze on the right is impregnated with a clotting agent called kaolin, and can also pack wounds or be used as a dressing. At the bottom is a camouflage cohesive bandage, which will stick to itself but not to skin or the wound itself.
This is an SOS Chemlight from Cyalume. This one is Infrared, which means you and I can't see it, but the rescuers looking for downed pilots can. To use it, you pull the plastic cover off and crack the chemlight inside just like you would a glowstick. Then you hold the plastic cover and swing the chemlight by the lanyard, really fast. This creates a halo effect that is visible through night vision gear for a long way, allowing the downed pilot to signal rescuers without drawing attention from would-be captors. Unless they also have night vision gear.
The visible light version of the SOS Chemlight is available in our shop. Last year I did a test to see how long the light was visible after cracking it. It's supposed to be 12 hours, but the one I tested was still faintly visible after 36 hours.
To me, the Survival Module is waaaaaay more interesting than the Medical Module. This is what's inside. Let's break it down further, shall we?
Most experts agree that you should always have at least two methods for starting a fire. Here are those fire starting components, plus extras.  
The green tube at the top is a waterproof match case, and also holds the button compass and tiny signal mirror.  We sell a slightly larger waterproof match case here in our shop. The signal mirror is very small but usable. Obviously there are better mirrors out there (the best is the MIL-M-18371E Mark 3 Signal Mirror, with the caveat that it doesn't float). The match case contains 8 or 10 traditional lifeboat matches. The match case also contains a Spark-Lite fire starter. This is my favorite type of fire starter. It's like the spark wheel from a Bic lighter, but it puts out way more spark. Ordinarily Spark-Lites come in little kits with compressed cotton tinder tabs called TinderQuiks (the Army's Air Warrior vest contains the full kit with plastic container). Here they've substituted two WetFire tinders for the usual TinderQuik tabs. It's not a bad choice--WetFire ignites easily with a spark and burns longer than TinderQuiks. There's a similar product called FastFire that's included in some more specialized kits.
Here's the CamoVat Cravat and safety pins. This is a camouflaged triangular bandage. Kind of weird that the safety pins are separate and loose; they're often packaged with other styles of triangular bandage. There's a LOT you can do with a triangular bandage, from bandaging wounds to improvised tourniquets to slings to head covers.
These are Mk 10 LED finger lights, made by a company called Cejay Engineering. You might be surprised to know that in this picture, both lights are on. You can see the red light, but as with the SOS Chemlight above, you can't see the Infrared light. These are very low-emitting lights designed for task illumination in hostile environments, where you want just enough light to see what you're doing (or attract rescuers) without giving away your location to possible captors. The red light doesn't impair night vision, and the IR light is only visible with night vision gear.
Mk10 Fingerlights and their big brother the SERE 70 Personnel Marker Light are available here in our shop.
Each of the Mk 10 finger lights comes with a velcro wrap. Fighter pilots use the same or similar lights in the cockpit when night flying, as well as some other lights, like an LED light that you turn on by pressing your lip to the switch. The Mk 10 lights in the Survival Module each come with a little adhesive velcro patch that can be used to attach the light to something (the downed pilot, for instance). A lot of lights like this are designed as Personnel Markers, to help friendly forces identify the user on the battlefield.
These lights are supposed to have a 3-5 year shelf life, according to the guys at the factory. The shelf-life for this red one expired in 2016, but here it is in 2019, shining as brightly as ever.
The Survival Module also includes these Aquamira chlorine dioxide water treatment tablets. The CDC says that chlorine dioxide is the most effective type of water treatment tablet. Ten tablets are included in the Survival Module. One tablet treats approx. 1 quart of water. Here's what I don't understand, aside from the metric system--what are you supposed to treat the water in? Usually a survival kit like this will include Whirl-Pak bags, or aLOKSAK bags, or those old banjo-shaped PVC bags, or something. This bag has nothing. The resealable bags the modules are in have holes punched in them so that they don't interfere with the outer pouch's vacuum seal.
We sell Micropur water treatment tablets from Katadyn in our shop.  Aquamira's chlorine dioxide tablets are no longer available.
The object on the top right is a rescue whistle with parachute cord lanyard made from PIA-C-5040 Type 1A parachute cord.
A big part of jet pilot survival training is Escape and Evasion. The handcuff key is for escaping. If a downed pilot is captured and cuffed, he retrieves this key from wherever he had it hidden and uses it to unlock the handcuffs. Also included is a Leatherman Squirt PS4 Microtool. I've actually been carrying this one in my pocket for months now. It has pliers, a wire cutter, knife, file, screwdrivers, scissors, etc. You can do a lot with this little guy, and it's small enough to fit on your keychain or be easily concealed. It's not as usable as a full-sized tool, but it's a gold-mine of functionality for a downed pilot.
And that's the kit. Or anyway, that's these two modules. The life rafts are a whole other ball of wax, and there's probably stuff stowed in the ejection seat, and the pilot has stuff like an MRE and ASEK stashed in or on his flight suit. 
Next up, we hope to get our hands on a Cold Weather Ejection Seat Survival Kit from the 1980s.  Stay tuned!