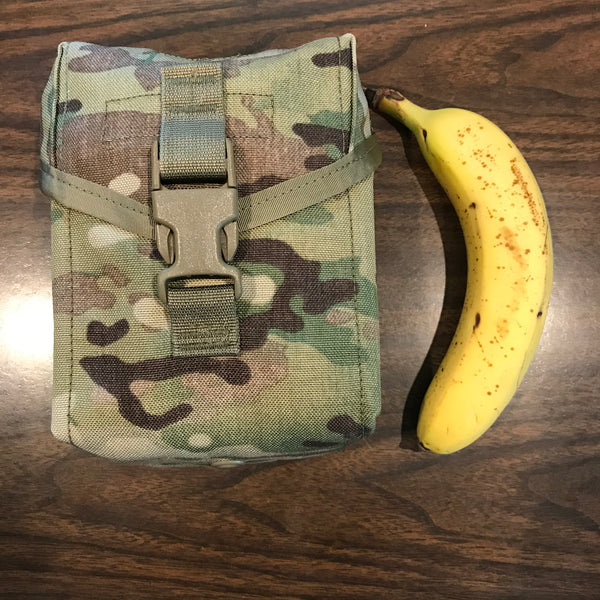 What's Inside: Improved First Aid Kit, Multicam
This is the Improved First Aid Kit, Multicam.  The military NSN for this kit is 6545-01-584-1582.  It was packaged by SEKRI in the USA in July, 2019.  The first scheduled inspection date for this kit is April, 2022.  It comes in a Multicam MOLLE pouch (pictured above with a banana for scale; everyone knows how big a banana is).
The Improved First Aid Kit is designed to help treat major traumatic injuries, so it does not include items like bandaids, meds, antibacterial ointment, etc.
We were able to pick this kit up on Ebay, still packed in the original plastic packaging. Not sure why a brand new, current kit would be surplused, but the seller had a bunch of them available at the time.  Our tax dollars at work, I guess.
Let's take a look inside!
Inside the Multicam MOLLE Pouch is a coyote brown organizer insert.  The insert is tri-fold with hook and loop closure. On the outside is an elastic loop for the tourniquet.  This kit includes a Gen 7 Combat Application Tourniquet from North American Rescue (available in our shop--click here). The organizer insert is tethered to the pouch with a phone-cord-style lanyard like is sometimes used for pistol retention. This keeps the first aid gear attached to the pouch, which is attached to the soldier. If he has to move fast or use his hands for something else, he won't lose this life-saving gear.
Inside the insert are a nasopharyngeal airway, gloves, tape, a 4 in. Israeli Bandage (available in our shop--click here), and sterile compressed gauze.
Laying out the contents of the US Army Improved First Aid Kit.  The CAT is stored on the outside of the insert for fast, easy access.  If you have a major wound to your extremity, rapid access to the tourniquet can be critically important.

I noticed that the airway in this kit was rolled up for storage when the kit was packed.  Unrolling the package revealed kinks in the airway.  I wonder if that impacts its effectiveness?  My first aid training doesn't extend to airways, but this doesn't look right to me.
This seems like a nice design feature of this organizer insert.  The tape roll is held in place by the elastic loop, but is also anchored to the insert by this nylon loop.  That allows the roll to spin freely without getting lost. 
Quick look at the MOLLE webbing on the back side of the IFAK's Multicam MOLLE Pouch.  Not pictured is the drain hole at the bottom of the pouch.  The loaded pouch is 7.5 in. tall x 5 in. wide x 3 in. deep.  The whole thing weighs 1 lb. 2 oz.
I hope you've enjoyed taking a look inside this US Military Improved First Aid Kit!