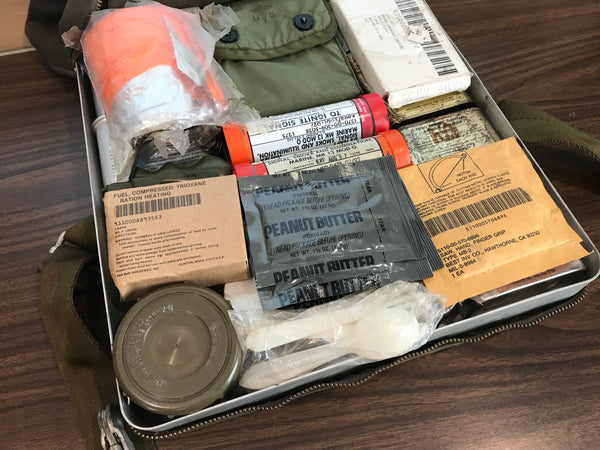 What's Inside: Rigid Seat Survival Kit (RSSK), Cold Climate
This is a US military Survival Kit, Cold Climate. It was formerly part of the ejection seat assembly in some type of military aircraft. Let's take a look inside!
This kit is pretty hefty, and it's not even complete. On the top of the storage bag there's an empty pocket that used to house a poncho, for instance. You can also see two olive drab straps coming out the sides with heavy duty snap-links. Those attach the kit to the ejection seat/parachute assembly, somehow. And there are two adjustable yellow shoulder straps that allow the kit to be worn as a backpack.
First we'll dig into the main pack. On top you can see the mosquito head net. If you've ever been far north, you can vouch for the intense mosquito situation up there. Some civilian kits also include mosquito mittens.
Under the mosquito head net in this kit is a MIL-B-36964 Type 1 Blanket, Combat (NSN 7210-00-935-6665).  This kit would normally also include a vacuum-sealed "Sleeping Bag, Arctic Survival" which was not included in the kit we ordered.
These will be available in our shop in January of 2020, if all goes well.
 Here's the MIL-B-8571-D Bag, Storage, Drinking Water (NSN 8465-00-485-3034). These have a roll-up closure that you secure with the strap and buckle.  That strap can also be used for belt carry.  The bag holds 5-quarts of water.  It can also be inflated and used as a flotation device.
These should be available in our shop sometime in 2020. 
The RSSK includes a 3-pack of Trioxane solid fuel bars.  These are discontinued now.  These could be used to cook, boil water, or start campfires.  
We sell Esbit's solid fuel cubes here, which perform similarly to the old trioxane bars.
The RSSK includes 7 Food Packet, Survival, General Purpose ration tins.  There are two different kinds here--the brassy looking cans have a key and open around the middle, creating two separate halves. The newer silver cans have a pop-top peel-back lid. They're sitting on parchment paper here because two of them are oozing some kind of terrible nastiness.
Here's the Saw, Hand, Finger Grip MIL-S-9964 Type MB-2 (NSN 5110-00-570-6896).  I have not had great luck with wire saws.  This one uses set screws to hold the wire, but in my experience those work loose with use.  There is also a replacement wire in case the first one breaks.
Here's the standard Camillus US Military Utility Knife with folding blade, screwdriver, awl, can opener, bottle opener, and lanyard ring.  This is built like a tank.
Here's the little knife sharpener included in the kit. You draw the blade through the little V at the top of the handle to touch up the edge on the pilot's knives. Military pilots would also have a fixed blade Pilot Survival Knife, or the later Aircrew Survival Egress Knife, but these would be on the pilot's vest or flight suit, with some other survival gear not stowed in this kit.
 This is the Fishing Kit MIL-F-6218C (ASG) (NSN 4220-00-244-0764) and Brass Snare Wire.  We'll do a separate post showing the contents of the fishing kit.  Procuring food is a comparatively low priority compared with other survival tasks like shelter and first aid.  However, in the right environment, fishing and snare construction could provide some major advantages.  A SERE instructor recently told us 15 well-placed snares are needed for one catch, on average. In addition to this snare wire, a downed pilot can also rely on parachute cord from his parachute for snare cordage.
Fishing Kits and Snares are available here in our shop.
Here are the different signalling components included in the kit. Two Mk 13 Smoke/Illumination flares. These expired in August of 1997. Also included is a signal mirror (MIL-M-18371E, Mark 3, Type II). This is the best type of signal mirror out there. It's made from actual glass, which reflects better and farther than any other type of plastic or polycarbonate signal mirror. On a clear day it's visible for many miles (one guy says up to 40 miles, but I don't think you can count on that). The hole in the center is the retroreflective aiming grid, which creates a fireball effect you can use to aim this very accurately over long distances. These signal mirrors are available here in our shop.
The kit also includes the high visbility orange ACR Rescue Whistle. We prefer the 5col Whistles or Fox40 Rescue Whistle, available here in our shop.
This kit includes a little compass with loops on the back so that it can be worn on the wrist.  The compass isn't liquid filled, and includes some features that make it far more useful than the typical button compass.
This is a MIL-B-36964 Type 3 Casualty Blanket. There are a lot of better thermal protective products on the market (like the Blizzard bags and blankets the military now sometimes uses), but you can't deny that a highly visible blanket like this one would be helpful in an emergency. Bear in mind that this is in addition to the heavy duty casualty blanket pictured above, and the missing poncho and arctic sleeping bag. Quite a lot of useful shelter components.
Our shop contains a range of mil-spec and civilian emergency blankets and thermal protective aids.
Here are the fire-building components in the survival kit, not including the trioxane bars up top. There are 5 candles, a waterproof tub of strike anywhere matches, a magnesium fire starter, and a pack of hurricane matches. Look at those beautiful Domino Strike Anywhere Matches! Can't get those anymore. In this kit, I also noticed that the waterproof plastic storage tub has lost its rubber gasket, so it's probably not waterproof anymore.
Here are the windproof weatherproof hurricane matches. Similar types are still available, although I've never seen this tan/brown variety before. Maybe that's just some kind of age-related deterioration?
A range of Stormproof matches and fire starters are available in our shop.
This is the magnesium fire starter. These are pretty common in military survival kits, and Doan still makes them. The idea is that you use the knife to shave some magnesium flakes from the shaving edge, then strike sparks off the ferro blank on the other side to ignite those flakes. When it works, it produces a brief, super hot ignition source. Personally, I find this to be one of the most frustrating ways to start a fire, but a lot of folks love them.
Here's one of the candles. I think these are primarily intended as heat sources. With the heat reflective blankets, a downed pilot can use one of these candles to create what's called a Palmer Furnace. That's a viable way to rewarm the body in low temps.
Coghlan's makes a very good 3-wick survival candle in tin that burns for up to 36 hours. It's available here in our shop.
Here's the included Individual First Aid Kit (IFAK). This style of IFAK is still in use in some parts of the military. The metal pieces on the back are called ALICE clips, and were part of a load-bearing system no longer in use. This type of first aid kit is still manufactured, though, and they're pretty popular as a base kit in the civilian world.
A less comprehensive version of this kit is available in our shop.
Inside is a plastic first aid kit container that protects the contents. What puzzles me about this is that the inspection sticker says this kit was last inspected in 2006, years after most of the other contents in the survival kit expired. Not sure if this kit was reassembled from different components by a collector, or if some Life Safety guy somewhere in the military just consolidated a bunch of expired contents into one container and surplused the whole thing.
This is the aluminum tray that all the contents are stored in. Maybe this is what the book says could be used as a skillet? You could certainly melt snow in it, as well. It seems like there should be two sides to this, to make a closable box. If there's supposed to be another side, it wasn't in this kit.
This kit contained two different survival manuals. The one on the left is newer, and is printed on waterproof paper. The one in the middle is the older, thicker manual that everyone knows and loves. It reads like the Boy Scout Handbook. On the right are about 30 loose pages which appear to be periodic updates to the manual on the left. Most of them refer to updates to the contents of the kit and how the items should be packed.
There are at least two versions of this kit. Mine is the Cold Climate version, and there's also a Hot Climate version. Mine has this combination tool system consisting of handle, big aluminum sheet with rolled edges (which is not a tray!), and saw blade/knife. The Hot Climate kit has a Woodman's Pal instead, which is a kind of super-machete and all around great tool.
The ergonomics on this are better than expected. Hold it like so to use the saw, or hold the other part of the handle to use the knife edge on the reverse side.
Here you can see how the blade attaches to the handle. The bottom of the blade fits in that groove, and the threaded stud and offset peg pass through holes in the blade. You tighten the wing nut to hold everything in place. It's pretty sturdy.
You can also use this metal sheet as a shovel, which would come in handy if you needed to construct a snow shelter. The documentation suggests that some part of this assembly can be used as a skillet. This shovel would kind of work for that.
I hope you've enjoyed taking a look inside the contents of this Rigid Seat Survival Kit, Cold Weather.  We will follow this post up with a closer look at the fishing kit, GP Ration, and First Aid Kit.  I am not an expert on these kits at all, so if you have info you can share (or suggested corrections), please give me a shout.  Additional info would be much appreciated.