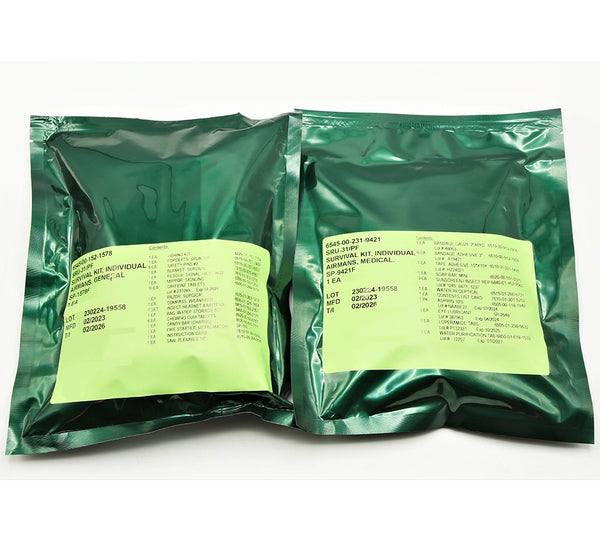 What's Inside: SRU-31/PF Survival Kit
This article was written for 5col Survival Supply by Reuben Bolieu.
When it comes to flying in a military aircraft, ensuring the safety of the pilot is of utmost importance. To that end, the US military developed the SRU-31/PF Pilot's Survival Kit to aid pilots in emergencies.

Originally known as the SRU-31/P Survival Kit, the F on these kits indicates they're are packed in foil pouches instead of the former vinyl/nylon pouches. They are not meant to be used as standalone survival kits/IFAKs (Individual First Aid Kits). Instead, the SRU-31/PF kit pouches were designed to go in the aviator's vest as part of a larger Aviation Life Safety Equipment (ALSE) survival system.
History and Current Use of the SRU-31/PF Survival Kit
The SRU-31/PF survival kit was first designed by the United States Navy in the 1960s to provide an all-around survival/medical kit to individuals for emergencies. It was quickly adopted by the U.S. Air Force for aviation operations, and it continues to be used by both branches of the military today. Additionally, other countries have adopted similar kits for their military and aviation operations.
Designed by the Best
The SRU-31/PF Pilot's Survival Kit was developed by experts in the United States military. The kit is carefully engineered to meet the high requirements set forth by military guidelines and was created to withstand the toughest conditions pilots may face.
The kit is an indispensable aid for any military pilot containing the most essential items for an individual. It is designed to help them survive even the most extreme conditions.

What is the SRU-31/PF Pilot's Survival Kit?
The SRU-31/PF Pilot's Survival Kit is a compact two-pouch kit containing essential items to help pilots survive in emergencies. One pouch is devoted to general survival for an individual covering fire, shelter, water storage, and signaling. The other pouch is devoted to medical items covering minor medical needs like diarrhea, bleeding (bandages/gauze), sun protection, and hygiene.

This survival kit is designed to help pilots during various situations such as ejection, water landing, crash, and evading capture in austere environments.

Being stranded or evading capture for an extended period can be daunting—dehydration, injuries, starvation, and so on are potential hazards. Having a kit filled with items that can help address these issues can be lifesaving. The SRU-31/PF Pilot's Kit is intended to be a comprehensive kit tailored specifically for pilots' needs.

Minimal Space Requirements
The SRU-31/PF Pilot's Survival Kit is small enough to fit into the pilot's survival vest, ensuring that it is always within reach. As the kit contains vital items and occupies minimal space, the pilot doesn't need to carry much extra weight or additional baggage.

The SRU-31/PF is designed to fit in the pockets of various survival vests, such as the USAF Aircrew Vest SRU-21/P Survival Vest or the CMU-33A/P22P-18 AirSave Survival Vest. These vests are made of fire-retardant materials and have a modular attachment system that allows easy reconfiguration for different missions and situations. Some vests also have integrated extraction harnesses and flotation collars for water survival. All of those vests can accommodate the SRU-31/PF kit.

Components of the SRU-31/PF Survival Kit
Individual Airmans-General (SP-1578F)
1 Fishing Kit (4220-01-181-3154)
1 Forceps, Splinter (6515-00-337-2400)
5 Safety Pins #2 (8315-00-787-8000)
1 Rescue, Signal, Med-Inst (7610-01-302-0218)
1 Mirror, Signaling (6350-00-105-1252)
10 Caffeine Tablets (6505-01-299-5613)
1 Compas w/ Lanyard (6605-01-326-1654)
1 Bag, Water Storage 1QT (8465-01-296-2131)
6 Chewing Gum Tablets (8925-00-160-6161)
1 Candy Bar (CHARMS) (8925-00-823-7101)
1 Firestarter, Metal Match (SP-102)
1 Instruction Card (7610-01-301-5256)
Individual Airmans- Medical (SP-9421F)
1 Bandage, Gauze 2"x6YD (6510-00-913-7906)
6 Bandage, Adhesive 3" (6510-00-913-7909)
1 Tape, Adhesive 1/2"x10YD (6510-01-221-1495)
1 Soap Bar, Mini (8520-00-551-0375)
3 Sunscreen/Insect Rep (6840-01-452-9582)
1 Water Receptacle (6515-01-260-6721)
1 Contents List Card (7610-01-301-5252)
1 PK Aspirin 10's (6505-00-118-1948)
1 Eye Lubricant (SP-2648)
1 Loperamide Tabs (6505-01-238-5632)
1 Water Purification Tab (6850-01-618-1533)
Both pouches come in a sealed foil packet with a pull-to-open strip. Inside is a large thick, robust Ziploc bag that holds the entire contents of the packet. There is a contents card listing all the items and the quantities that is visible without needing to open the Ziploc. An instruction card can also be found in the kit, which also lists the items, their uses, and brief instructions.

Every item besides the water storage bag is individually packaged and labeled, adding another degree of weatherproofing and protection.

Increased Confidence
Knowing that they have the essential items necessary to survive even in the bleakest emergency scenarios instills confidence in pilots. This heightened confidence can help them maintain their composure and make rational decisions, increasing their chances of survival.

Having a well-stocked emergency kit is not only useful for pilots in an emergency, but it can also provide peace of mind knowing that they are prepared for any unexpected situation. This sense of security can help reduce stress and anxiety, allowing them to focus more on their mission at hand.
Additional Information
There are several articles and videos detailing the effectiveness of the SRU-31/PF survival kit saving lives during emergencies. Many military personnel and pilots credit the kit with providing them with the necessary resources to survive during emergencies and make it back home. The SRU-31/PF survival kit has become essential to military and aviation operations, providing a simple yet effective solution for personnel recovery in emergencies.
The SRU-31/PF kit is available as a standard kit, but 5col Survival Supply can assist with other iterations on request.

The SRU-31/PF Pilot's Survival Kit is a critical asset for pilots. It is designed for their unique needs and necessities in emergencies or hostile environments. Comprehensive in design, minimal in space requirements, expertly crafted, and confidence-boosting, it is essential that all military pilots carry this kit to ensure their safety during the most challenging situations.
It's also equally important to familiarize yourself with the contents and instructions of the kit before you fly and to check the expiration dates of some items regularly. Remember, your life may depend on it!